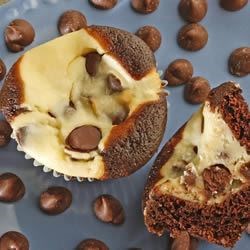 One of my friends is obsessed with cupcakes and I decided that I needed some in my life. I hopped on my favorite recipe website,
AllRecipes
, and got to searching.
These
little delights popped up and I knew they were the ones. Whole Foods used to (or maybe still does) have a version of these and they were heavenly, so I figured I'd give them a try.
Ingredients:
1 (8oz) package of cream cheese (
I'll try light next time, since regular cream cheese was pretty stiff
)
1 egg
1/3 cup white sugar
1/8 teas salt
1 cup semisweet chocolate chips
1.5 cups flour
1 cup white sugar
1/4 cup of cocoa (
I used 1/3, which several reviewers suggested
)
1 teas baking soda
1/2 teas salt
1 cup water
1/3 cup vegetable oil
1 tablespoon white vinegar (
pretty sure I grabbed the first non-apple vinegar that I found in the pantry. worked well enough
)
1 teas vanilla extract
Directions
1. Preheat oven to 350, lightly butter muffin tins
2. Beat together cream cheese, egg, sugar, salt. Stir in chocolate chips, set aside (
I mixed, rather than 'beat', which is probably why the cream cheese was all lumpy for mine. Looked kinda gross, but still tasted awesome when they were done
)
3. In a separate bowl, sift together flour, sugar, cocoa, baking soda, and salt (
sift, to me, means run a fork through it a few times to break up the big lumps. I'm

way

too lazy to actually sift
). Add the water, oil, vinegar, and vanilla. Beat until well combined (
surprisingly fast and easy
). Batter will be thin.
4. Fill muffin cups 1/3 full with the chocolate batter. Top each one with a spoonful of cream cheese mixture.
5. Bake for 20-25 mins (
the actual recipe says 30-35, but several of the reviews said that that was too much. I

always

check the reviews for modifications and tips on that website
)
6. Eat approximately 5 in a 3 minute span with a huge glass of milk, because these are the SHIT, people.
I may or may not have added #6 myself. Still stands true, though. Trust me.