My BFF came into town for her 30th birthday, so I wanted to do something special and unexpected. \
Bake a cake.
Bake a LEMON cake, because she loves lemony things.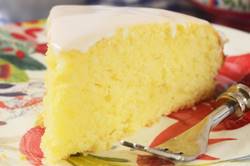 1 cup (230 grams) unsaltedbutter, room temperature
1 cup (200 grams) granulated whitesugar
4 largeeggs, room temperature
Zest of 1 largelemon(outer yellow skin of lemon)
2 cups (260 grams) all purposeflour
1/4 cup (60 ml) fresh lemon juice
1 cup (115 grams) confectioners' (powdered or icing) sugar

, sifted
2 - 4 tablespoons fresh lemon juice
Lemon Cake: Preheat oven to 350 degrees F (180 degrees C) and place

oven

rack

in the center of the oven. Butter, or spray with a non stick cooking spray, a 9 inch (23 cm) spring form pan and then line the bottom of the pan with parchment or wax paper.
In the bowl of your electric mixer (or with a hand mixer) beat the butter and sugar until light and fluffy and pale in color (about 3-4 minutes). Scrape down the sides and bottom of the bowl as needed. Beat in the vanilla extract. Add the eggs, one at a time, mixing well after each addition (batter will look curdled).
Sift or whisk together the

flour

, baking powder, salt, and lemon zest. Add the flour mixture (in three additions) alternately with the lemon juice (in two additions), mixing until you have a smooth batter.
Pour the batter into the prepared pan, smoothing the top with the back of a spoon or an offset

spatula

. Bake about 40 - 50 minutes, or until a toothpick inserted in the center comes out clean. (Do not over bake or the cake will be dry.) Place on a wire rack to cool for about 15 minutes, then gently remove the sides and bottom of the pan.
Lemon Frosting:Place the sifted confectioners sugar in a small bowl. Add 2 tablespoons lemon juice and stir until you have a thick and smooth glaze. Add more lemon juice or powdered sugar, as needed. Pour the frosting over the top of the cake, allowing it to drip down the sides. Let the frosting dry before covering and storing. This cake will keep for several days in an

airtight

container

.
Makes one - 9 inch (23 cm) cake.
First off, all of those links and that pic were with the original recipe. They aren't mine, so I can't be held accountable if it's porn or something. The picture is because mine didn't come out NEARLY that pretty.
Turns out, I only had access to a 6-in pan, aaaaaand I didn't hear the timer go off, so it was a smidge overcooked and dry. My glaze also looked nothing like that. Mine was clear, BUT it tasted like a dream come true. I think they maybe used more powdered sugar?
Baking makes me nervous, because there is so little room for error. This cake was pretty easy to assemble, though. I should have paid more attention to the "smoothing the top" part, though, as mine was a little domed and a lot not flat. Meh. Still tasted like cake, so no huge loss.
Definitely worth making again, fo sho.