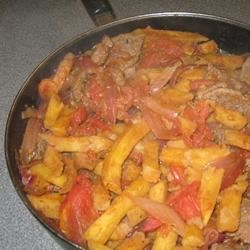 Along with
pisco sours
, an almost daily staple during our time in Peru was
lomo saltado
. It's like THE dish down there. Uh...steak AND french fries?! ALL ROLLED INTO ONE?! Count my fat ass in! (not my pic. too lazy to take one)
Ingredients
1 (16 ounce) package frozen French fries
vegetable oil as needed
1 pound beef tri tip, sliced 1/8 to 1/4 inch thick
salt and pepper to taste
1 large onion, sliced into strips
3 large tomatoes, peeled, seeded, and sliced into strips (

I didn't seed mine. Should have. They got kinda mushy

)

1 yellow chili pepper (preferably Peruvian aji amarillo)(

have yet to see one of THOSE stateside. I bought a 'yellow chili pepper'. Close enough, right? It was super mild, though. My Peruvian sister in law bought the closest thing she could find when she made it for us, being unfamiliar with gringo peppers, and picked up a habenero. DO NOT DO THIS. You will cry fire

.)

1/4 cup distilled white vinegar
1 dash soy sauce to taste
2 tablespoons chopped fresh parsley
Directions
Prepare the bag of French fries according to package directions.

While the French fries are cooking, heat the oil in a frying pan over medium-high heat. Season the sliced meat with salt and pepper to taste. Fry the meat until just cooked, and the juices begin to release. Remove the meat from the frying pan, then cook the onions, with additional oil if needed, until they are transparent. Stir in the tomato and aji amarillo; cook until the tomato softens. Pour in the vinegar and soy sauce, add the French fries, cover, and cook until the beef is done, about 3 minutes. Season to taste with salt and pepper, and sprinkle with chopped parsley to serve.
TADA!!!!! Total success. Wasn't as good as is was in Peru (duh), but totally tasty.