Recipe and picture (shockingly, hers looks WAY better than my phone pics) from
Oh She Glows
. She is vegan, but her recipes, like this one, usually look freaking fantastic for anyone and everyone. They never have creepy stuff like fake cheese or fake meat or any of that crap in them. Only fresh "real" ingredients. As a meat eater, I'm always bookmarking or
pinning
her recipes as side dishes or appetizers. Good stuff.
Yield

: 2-3 as a main, 4-6 as a side.
Ingredients:
3/4 cup dry quinoa
1 pint strawberries, sliced (2.5-3 cups)
16 oz. fresh blueberries (1.5-2 cups)
1 cup cherries, pitted and sliced
2 tbsp pure maple syrup (or other liquid sweetener)
1 tsp balsamic vinegar
1 tbsp fresh lime juice (or lemon might work!)
Pinch of kosher salt
1/2 cup almonds, chopped
Directions:
1. Cook quinoa according to package directions. (usually 1 part quinoa to 1.5 parts water)
2. Meanwhile, chop the fruit and place in a large bowl.
3. Mix the dressing ingredients (maple syrup, balsamic, lime juice, salt) in a small jar and adjust to taste if necessary. Note: You may have to double the dressing recipe if your salad is quite large. (I made about 1.5x the dressing recipe and it seemed perfect)
4. Fluff cooked quinoa with a fork (I did this for a few minutes to cool it off before adding it to the fruit) and add to large bowl with fruit. Combine. Pour on dressing and mix well. Serve immediately or chill in the fridge until serving time. (I chilled it a bit, thinking that it would be good for the grains and fruit to soak up the dressing. I added the almonds just before serving.)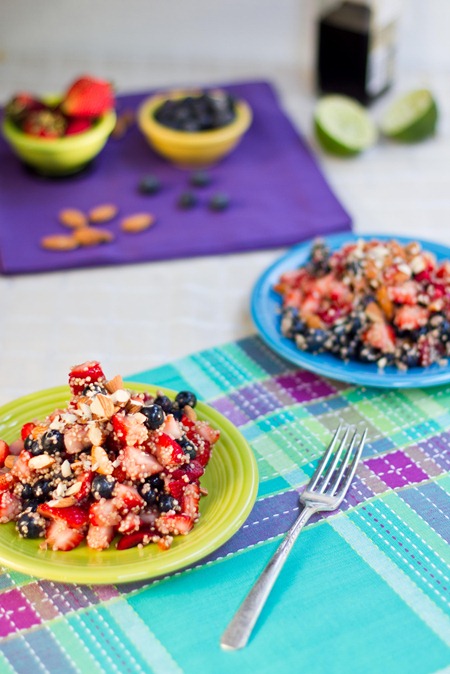 I went to the farmer's market yesterday morning and picked up super fresh and ripe berries. Is there anything better than perfectly ripe berries? No. No there isn't. This was super easy to make, although pitting and chopping cherries is a gd CHORE. There aren't THAT many in the recipe, though. I made this with
goat cheese stuffed turkey burgers
for a father daughter dinner with my pops. I was
pretty
sure that the burgers were a disaster, so I served it all "sorry about the horrifying looking burgers, but the berry thing will be amazing! So that's something! Right?!". Surprisingly, I'm not known as the cook of the family. Anyway, this is uber healthy, as quinoa is one of the only grains that provides a complete protein (although not a ton of it), berries are stock full of antioxidants, and almonds provide a nice healthy fat source and all that jazz. I'm totally excited to eat leftovers today. Not gonna lie.